Make Money Moves with Mobile Home Investors Like You!
______________________
Join the Mobile Home Society – Perfect for Experts & Beginners!
JOIN THE

MOBILE HOME SOCIETY,
We get it. As one of real estate's most untapped niches, it can be hard to connect with other people who understand mobile home investing. That's why we're proud to announce the Mobile Home Society is now open to new members!

The Mobile Home Society is a private network of action taking mobile home investors who all learn from, support, and collaborate with each other. So whether you're a seasoned professional, or a newbie to manufactured homes, there's a place for you here in the Mobile Home Society.

Would you like to…


✔ 

Receive weekly LIVE coaching calls from Byron and Sharnice?



✔ 

Get fast answers to your questions from group members who invest like you do?


 
✔
Discover the proven strategies and expert insights to take your mobile home business to new heights and achieve 6 & 7 figure success with our comprehensive scaling program.


✔

Speak to other Society members who have taken the course?



✔

Learn from top industry professionals who are already where you want to be?
Gain access to an exclusive group of top-performers who can guide you to perform just as well as them?

If so, you've finally found your tribe. Click Here to Join the Mobile Home Society Now
Here's the Hard
Truth

:

Despite its great rewards, investing in mobile homes can be a lonely journey. Most people are looking at "traditional" stick-built houses, while investors like us are cashing in on the overlooked gold mine of manufactured homes.

Most articles about real estate aren't for entrepreneurs like us. As a matter of fact, many of them try to discourage people from investing in mobile homes at all!

On one hand, that creates more opportunity for us. Less investors in our niche means more deals for our group, right?

But on the other hand, that means we don't get to network and create partnerships the way other real estate professionals do.

Historically, that's been a problem for mobile home investors like us. But now, the tides have changed, and that problem is officially over.

Join the Society!
Finally, there's a mastermind group for mobile home investors.


And it's one you can join no matter where you are on your journey.
Our exclusive group of manufactured home investors is one-of-a-kind. You won't find another group like this one with as much detail and as much hands-on support.
This isn't some Facebook group of people thrown together with no guidance. Instead, the Mobile Home Society is a mastermind of professionals who get regular weekly coaching sessions with industry professionals like Byron, Sharnice, or their invited expert guests.


YOUR CHANCE TO JOIN THE MOBILE HOME MASTERS
Our mission is to empower our mobile home investor family with the knowledge and skills they need to thrive. We want you to be successful in the mobile home market, which is why we're dedicating ourselves to personally training you, week after week.
However, we want to keep trainings as personal as possible, so we can't keep the doors open forever.
Once we reach capacity, the doors to Mobile Home Society will close! And while we'd love to take everyone, we think it's more important to serve our Society at the highest level possible.
If financial freedom is really your goal – you need to be part of the Mobile Home Society!
Join now before we've reached our membership limit!
Sign Up Now
Here's What You'll Receive as a MHS Member
Key strategies for successful mobile home & mobile home park investing.

The latest tips on how to identify profitable investment mobile home & mobile home park opportunities.

Techniques for managing and maximizing your mobile home investment portfolio.

Must-have guidelines on how to conduct thorough market research and due diligence.

Strategies for financing, purchasing, and managing your mobile home & mobile home parks.

The latest trends and developments in the manufactured home industry.
Along with a supportive community of like-minded individuals to network and collaborate with!
Join us on the journey to financial freedom through mobile home investing.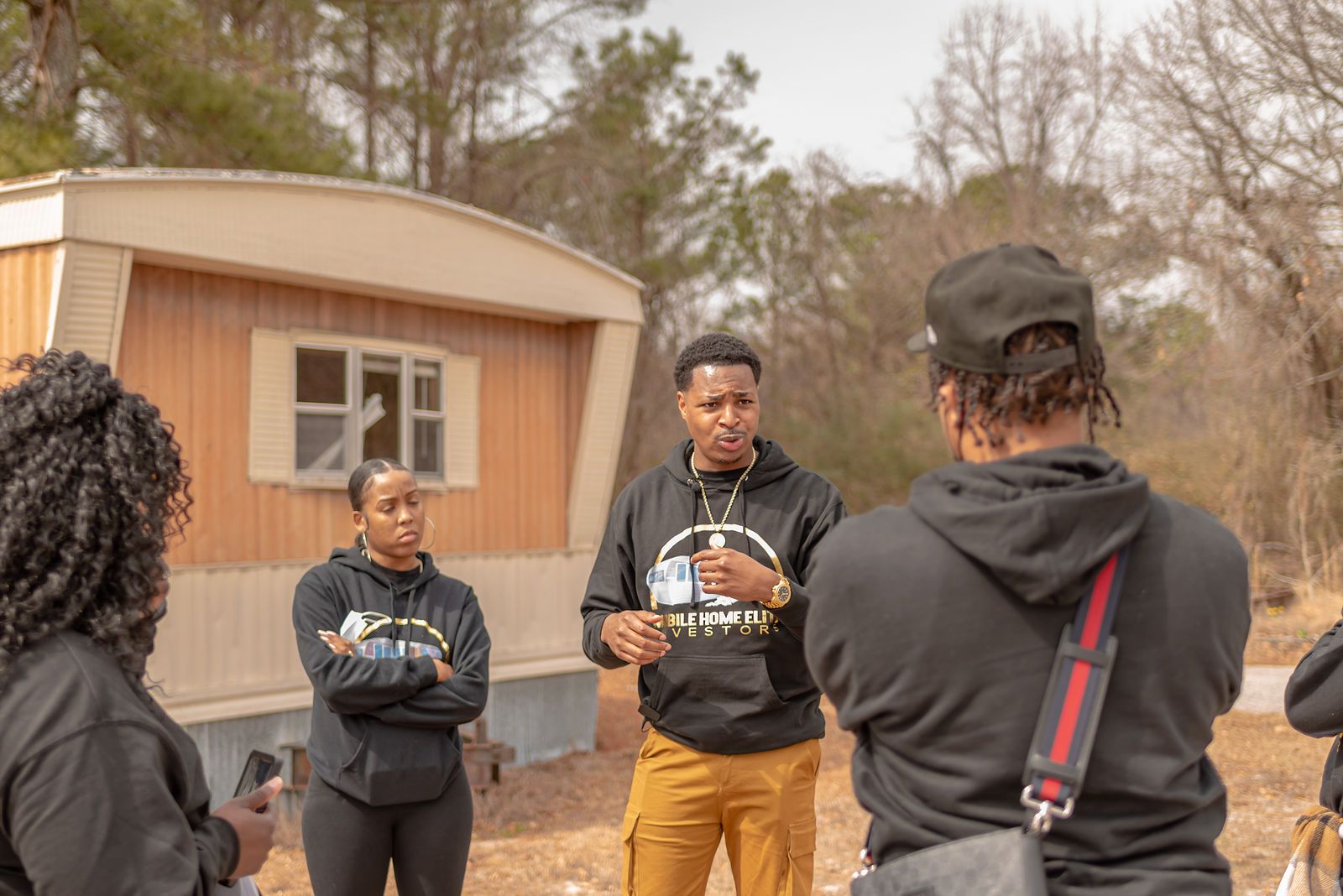 Live Mindset Coaching
Get live group coaching sessions hosted on Zoom every other week. Here you can chat with other members and ask Byron and Sharnice the questions you need to succeed!
Society Hub
Get initiated into the society with a kickoff call! After that, you'll gain access to on demand trainings, mentoring sessions, group coaching, and exclusive downloads!
Community
Our community center is the best way to network with like-minded mobile home investors. Get peer-to-peer support, collaborations, and accountability partners too!
Membership Bonuses
That's not all! We want to give our members even more with personal feedback coaching, 6- and 7-figure guest speakers, member-only discounts on live and online events, and more!
Meet Charee
Once upon a time, there was a woman who was tired of living paycheck to paycheck. She wanted to secure her financial future and live a comfortable life. One day, she stumbled upon the world of mobile home investing and was intrigued by the potential for passive income and long-term prosperity.



Ms. Charee hit the ground running with our framework and made a $25k profit from her first deal.......then she received tragic news about the loss of her son.




Ms. Charee didn't let the tragic news stop her. In fact, she set out on a mission to provide affordable housing in honor of her son.
She STILL learned the ins and outs of the mobile home market, how to identify profitable investment opportunities, and effective strategies for managing her investment portfolio.
Now, Ms. Charee is a six-figure mobile home investor, and she attributes her success to the comprehensive training and resources provided by our program. She is grateful to be part of a supportive community of like-minded individuals who are all working towards a common goal.
Are you ready to follow in Ms. Charee's footsteps and achieve financial freedom through mobile home investing?
Join our training program today and start your journey to success!
October

 2023 Schedule

 

October 2nd- MH Society - #MotivationMonday - Rise to the Challenge: The Art of Facing Adversity and Overcoming Obstacles

October 4th- MH Society - The Tech to Take You Further: Choosing the Right Tools to Scale Your Business

October 11th- MH Society - Marketing Magic: A Beginner's Guide to Promoting Your Mobile Home Business

October 16th- MH Society - #MotivationMonday - Dare to Leap: The Art of Taking Calculated Risks and Seizing Opportunities

October 18th- MH Society - Land and Home Due Diligence: A Comprehensive Guide to Evaluating Your Mobile Home Investments

October 25th- MH Society - Building a Better Community: The Ultimate Guide to Creating Your Own Mobile Home Park

October 30th- MH Society - #MotivationMonday - Unleashing Your Inner Warrior: The Journey to Developing Personal Power and Confidence

 
November

 2023 Schedule

 

November 1st - MH Society - Marketing on the Move: The Best Strategies for Mobile Home Success

November 8th - MH Society - Section 8 Selling Points: A Guide to Persuading Mobile Home Parks to Embrace Affordable Housing

November 13th - MH Society - #MotivationMonday - The Power of Choice: The Art of Improving Decision-Making Skills and Building Confidence

November 15th - MH Society - Mobile Home Matters: Navigating the Legal Landscape with an Expert Attorney

November 22nd - MH Society - Manufacturer's Marvels: Finding Your Next Mobile Home Direct from the Source

November 27th - MH Society - #MotivationMonday - Designing Your Destiny: The Art of Mastering Goal-Setting and Achieving Success

November 29th -  MH Society - Due Diligence Done Right: A Step-by-Step Guide to Evaluating Mobile Home Parks for Investment
Frequently Asked Questions:
Are my results guaranteed?
What is the Mobile Home Society?
What is included in your Society membership?
Where and when can I access classes?
Can I cancel at any time?
Who should I reach out to with questions about Mobile Home Society?